We like to talk about "The Birchwood Difference".  By this, we mean what sets Birchwood Furniture apart from other Canadian manufacturers – what do we do differently?
Birchwood and their employees take pride in their craftsmanship.  From the wood shop, through to the sewing department, and finishing with the upholsterers: each staff member takes care to ensure the high standards of our clients are met.  Small details are not overlooked.
Our lumber is cut with precision on our CNC Router, which allows us to have fewer joins in the frames.  It is made with lumber from Golden BC, and is designed specifically for the furniture industry.  The frame is assembled using screws, staples, glue, and corner blocks, ensuring the final frame is a solid, quality piece.

In the cutting and sewing department, all materials are cut with care and attention.  Stripes and plaids are cut carefully to match perfectly, leather is expertly top-stitched, and each piece is reviewed to meet our high level of quality control.

Our furniture is benchmade – we are not built on an assembly line.  One upholsterer will start and finish the whole piece.  This means the details on the left side and right side will match each other (as opposed to having 2 separate staff members upholstering each side of the sofa at the same time). If the order is for a pair of matching chairs, the same upholsterer will build both.  This ensures the two chairs will have the same characteristics – the size of the pleats, how tightly the padding is pulled, how the seams sit on the arms.  This allows the upholsterer to put their mark on the piece and take more pride in their work.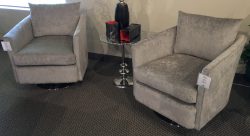 The final product is a crisply tailored, beautifully built piece of upholstery that will be enjoyed for years.